Inferno Skull Single Cigar Ashtray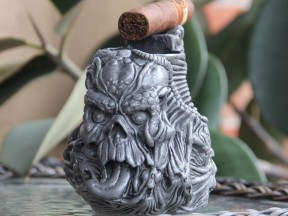 $ 50.00
Size
Price ($)
Stock
Product not available!
Product Details
More Images
Overtaken by lost souls and skulls, Inferno is a highly detailed single cigar ashtray containing a dizzying amount of detailed designs. Images twist and form out of every angle of this cigar ashtray making this detailed piece of art not only fun to look at but also a great gift for any cigar enthusiast. The cold-cast aluminum ashtray is made from a flame rated – fire resistant urethane resin and aluminum powder.
Overall approximate dimensions: 5.75(L)x4(W)x5.25(H) (in inches)
About Our Cigar Ashtrays
The single cigar ashtrays, robusto's, offer unique designs that are not only fun to look at but also serve as a functional piece of art.
Product Care
Our cigar ashtrays are made with a combination of metal and marble powders infused with a flame rate fire resistant urethane resin. The ashtrays will handle any ash with ease however applying a direct flame to the surface for prolonged periods of time could cause some minor warping in the design. Do not leave lighted cigars or flames unattended.