Sea Turtle Wine Stopper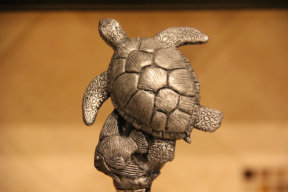 $ 25.00
Size
Price ($)
Stock
Product not available!
Product Details
More Images
Highly detailed sea turtle winestopper that is swimming around a fish and a moray eel. This bottle topper is a great gift for any fan of these beautiful creatures. The bottle topper is made from a cold-cast aluminum while the stopper contains a rubber seal and is made from high quality, food grade steel.
Overall dimensions: 6.75 x 3.5 (in inches)
About Our Wine Stoppers
In the same vein as you would display a sculpture on a table or hang a beautiful painting on a wall, our toppers are designed to transform any average wine bottle into a unique artistic centerpiece. Larger than traditional bottle toppers the Gore Collection designs offer a high level of detail while still maintaining the functionality for what the art was designed for.
Product Care
In order to prolong the life of your bottle stopper lightly hand wash the stainless steel/ rubber portion of the stopper only. Please wash before using.