Howling Wolf Bottle Opener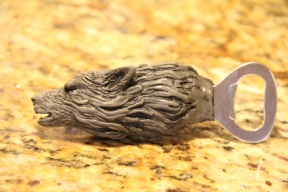 $ 25.00
Size
Price ($)
Stock
Product not available!
Product Details
More Images
Description: Cold-cast aluminum sculpture of a howling wolf wrapping around a bottle opener. This smaill and lightweight bottle opener is not only fun to look at but also a great conversational piece!
Overview
Handmade item
Materials: high quality resin, aluminum powder, aluminum bottle opener
Dimensions: 4.25 inches
* 8.25% sales tax is applied at the end of purchase for Texas residents.