Skull Bottle Opener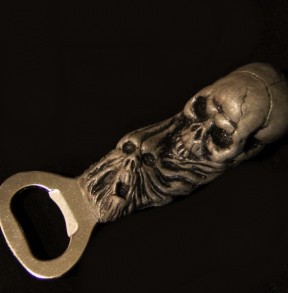 $ 25.00
Size
Price ($)
Stock
Product not available!
Product Details
More Images
Description: Cold-cast aluminum sculpture of a skull and souls wrapping around a bottle opener.  This smaill and lightweight bottle opener is not only fun to look at but also a great conversational piece!
Overview
Handmade item
Materials: high quality resin, aluminum powder, aluminum bottle opener
Dimensions:  4.25 inches
* 8.25% sales tax is applied at the end of purchase for Texas residents.
About Our Bottle Openers
Art is supposed to be fun and what can be more fun than grabbing a uniquely sculpted bottle opener to pop the lid off your favorite cold beverage. Unlike the traditional bottle openers, the Gore Collection designs offer a high level of detail while still maintaining the functionality for what the art was designed for.
Product Care
In order to prolong the life of your bottle stopper lightly hand wash the aluminum bottle opener only.  Please wash before using.
Not only is this bottle stopper a great wedding favor for the wine connoisseur, it also makes a great gift for anyone that loves skull designed art!